Printer-friendly page
Sample Activity
Practitioner Research Training
5. Focus on Data Collection (120 minutes)
Explain to participants that the purpose of this activity, now that they have new strategies to try as part of their research, is to discuss the "what happens to X" part of the question. Remind them that "X" is the thing they are trying to positively influence (e.g., comprehension skills, persistence, motivation, fluency skills), so their data should measure those skills.



Post the newsprint Terminology About Data Collection.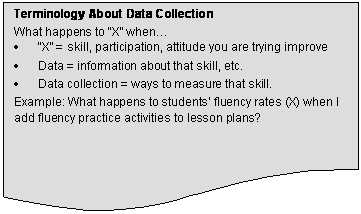 Remind participants that they were asked to bring to the session some type of information (existing in the program, or collected by them) or data that either indicates that X is a problem that needs solving or tells where students' skills (X) are now (before doing anything different). Ask the participants to indicate if they brought in data.



Randomly, not by topic, assign participants to small groups of no more than four.



Post the newsprint Sharing the Data or Information You Brought. Ask the participants to read through the newsprint and then to take a few minutes to think silently about how they will talk about their data in the small group, answering the questions as they share.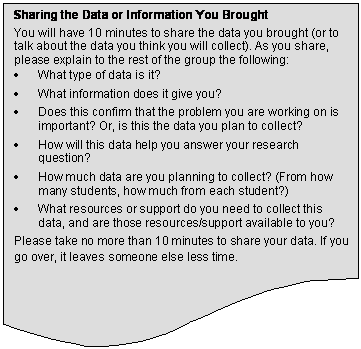 Distribute three to four copies of the handout Critical Friends Feedback on Data Collection to each person. Referring to the newsprint, explain to participants that, in their small groups, each person will have 15 minutes—10 minutes to discuss what data they have or want to collect and 5 minutes for feedback from their critical friends. Explain to participants that as the group members listen to the presenter, they are to make notes on the handout about what might be discussed after the presentation. The handouts will be given to the person afterwards. At the end of the 10 minutes, the group members take a minute to write any remaining "I wonder" responses. Then the group should take five minutes to discuss the "I wonder" responses with the presenter. If the group doesn't cover all the responses in five minutes, that's fine. Everyone should pass their feedback sheets to the presenter. You, as the facilitator, should monitor the time to make sure that everyone has an opportunity to present.



Reconvene the whole group and take what remains of the 135 minutes to answer general questions about data collection.



Distribute the handout Collecting Data: Points to Keep in Mind and ask the participants to take a few minutes to read it.
Updated 7/27/07 :: Copyright © 2005 NCSALL